Sandals Royal Barbados officially opened for business on December 20, 2017.
Sandals Royal Barbados is a 222 all-suite resort, located right next door to Sandals Barbados.
Whenever a new resort opens, you can expect that it will not be operating at the same level of a resort that has been opened for months or years and the early reviews of the resort will reflect this.  So, if you are sensitive to things not going exactly as planned, I would recommend you give this resort at least 4-6 months to work out the kinks.
If you are willing to give the resort and the people a chance, there is a lot to like about the new Sandals Royal Barbados.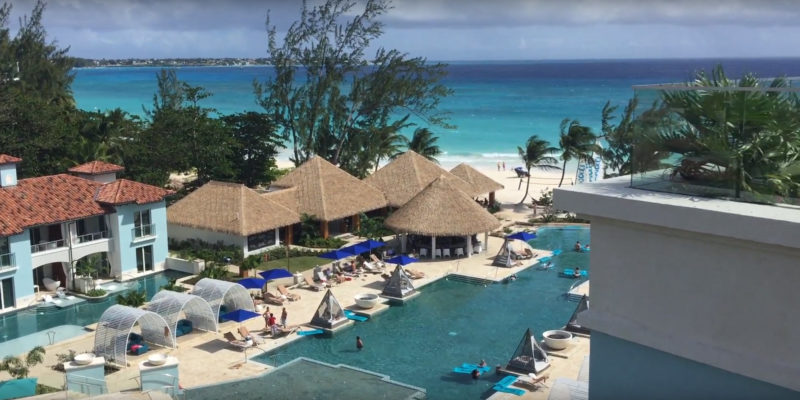 Sandals Royal Barbados Reviews:
The staff in Barbados is friendly and helpful
Most people find the food to be very good – better than many other Sandals.
There are 6 restaurants at Sandals Royal Barbados and an additional 11 restaurants next door at Sandals Barbados.
Views from the ocean front rooms are spectacular
The rooms are well appointed and everything is brand new
There are many nice pools throughout the resort including the one-of-a-kind rooftop pool
The beach is nice, but the water is usually pretty choppy.  This is not a place where you will be able to snorkel on most days.
There is not much shade available on the beach at Sandals Royal Barbados.  There is a little more shade available next door.  There are also covered cabanas available.
The grounds of the resort are extremely well maintained – many guest have reported seeing the local monkeys.
Another unique feature of this resort is the 4 lane bowling alley, which many guests enjoy.
Very good dive expeditions are available
The resort is frequently quite windy, which causes the ocean to be rough, but reduces the amount of bugs and mosquitoes.
More About Sandals Royal Barbados
All suites at Sandals Royal Barbados are either Club level or Butler level with balcony tranquility soaking tubs, room service, in-room bar, and turn-down service.
The resort has – 1 rooftop pool, 1 beachfront quiet swimming pool, 1 party pool in the South Seas area with swim up bar and 2 lagoon swimming pools.