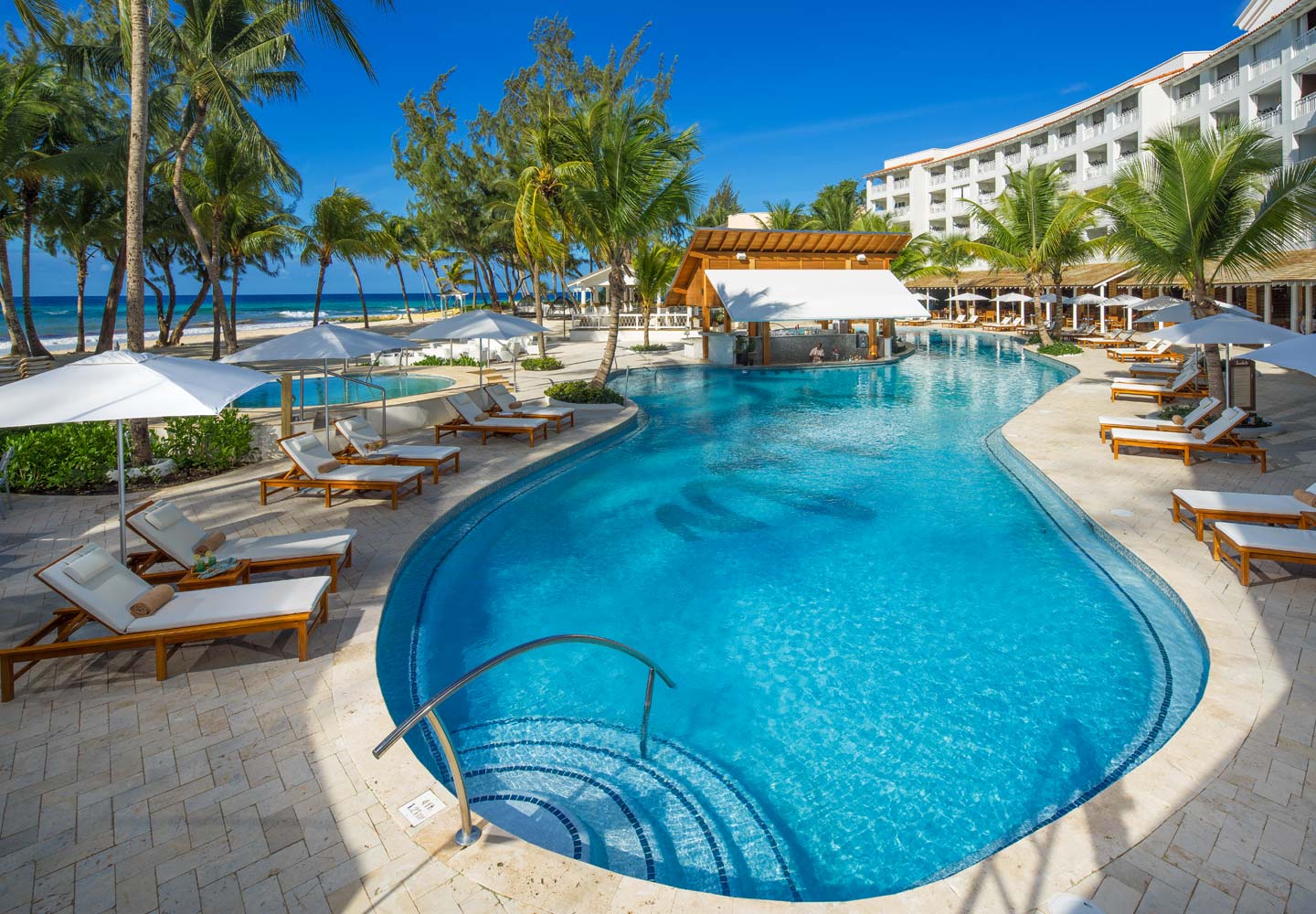 Updated: January 17, 2018
Sandals Barbados, an all-new retreat in the active St. Lawrence Gap area, offers luxury with inventive accommodations spanning three unique villages, world-class cuisine with international appeal, including a festive Indian cuisine restaurant, and innovative bar and pool designs.  Sandals Barbados reviews are largely favorable and this resort ranks as the 8th best Sandals resort in the chain.
Sandals has recently completed and opened a brand new all-suite resort (Sandals Royal Barbados) next door to Sandals Barbados.  It opened on December 20, 2017.
Because Sandals Barbados and Sandals Royal Barbados are literally next door to each other, you are almost getting two resorts in one when you book one of these resorts.  They share the same beach and guests at each resort can use all the amenities of both resorts.  The only thing you cannot do is have your butler reserve chairs at the resort you aren't staying at.
Sandals Barbados Reviews: The Positive
The Staff are friendly.  Nothing is too much trouble.  They are always making sure you are having a good time.
The Food is delicious and makes for a culinary delight in each of the eleven restaurants.  Butches and Kimono's are extremely popular and the only restaurant requiring reservations.
Café de Paris is excellent for coffee and tea,  and,  for those afternoon and evening sweet cravings.
Merry Monkey is a fun place to have a late night drink, play pool, and listen to music.
The Rooms are clean, spacious, and beautifully designed.  The beds are comfortable.  Rooms are equipped with UK and USA sockets.
Pools are lovely.  Something for everyone.  The main pool has a swim up bar and is the more active pool.
The drink servers around the pools and on the beach are always attentive and friendly, as well as bringing drinks wanted from the bar.
Water sports are available with an attentive water sports team.
Nightly shows are entertaining and fun.  The staff encourages guests to join in on the activities, but, are not pushy.
There is a Fire Pit at night surrounded by comfy chairs.
The gym is new and well equipped.
Wi Fi around the resort is pretty good and fast.
The piano bar is great for late night entertainment.
Most people feel the diving is good, but not great.
Barbados is one of the safest islands in the Caribbean, so if you like to explore the island Sandals Barbados is a good choice.
Sandals Barbados Reviews: The Negative
The ocean can be rough, very rough.  Expect to see red flags up at some point during your stay.   There is no swimming when red flags are up due to the choppy water.
If the beach and calm water are most important to you it may be a bit disappointing.
The beach area has lots of shade.  This is actually a plus for some people.  Scroll down to see a video that shows exactly how much shade there is on the beach.
Water Sports may not be available everyday due to the ocean being rough.
Sun beds can be a problem because guests will get up early to reserve the choice spots.  The biggest problem seems to be around the main pool area.  The staff will remove towels from the reserved beds if they are not occupied within a reasonable period of time.
In the morning birds can be a problem at the Bayside Restaurant.  The other option is the Bombay Restaurant.
There is a minor problem with the walk in showers getting the bathroom floor wet due to the design.   You may need to put extra towels down on the outside of the shower.
Some of the rooms do not have tubs.  If an in-room tub is important to you, make sure you inquire about it in advance.
Sandals Barbados is expanding.  There may be some noise in your room between 9am and 5pm depending where the room is located.  If you are sensitive to this, inquire in advance about the location of your room.  The construction is expected to continue throughout 2017. You can see a good picture of the construction HERE.
Many guests mention the presence of lots of mosquitoes – on the resort property and sometimes in the rooms.
There are cats at the resort, which many guests do not enjoy
Other Considerations
Two of the restaurants are very popular and require reservations (Butch's and Kimonos).  If you really want to eat at one of these Restaurants, you should inquire about reservations WHEN YOU CHECK IN (or perhaps even call before you arrive).
Sandals Barbados located within walking distance to St. Lawrence Gap, one of Barbados' largest entertainment districts.  If you like to get out and about this is a must.
Sandals Barbados is much larger than the other all inclusive resorts in Barbados.  The resort is very well laid out and tastefully decorated.
The grounds are absolutely immaculate and the resort is pristine.
There are small romantic seating areas around the property for couples to enjoy.
Sandals Barbados is a great resort for planning a destination wedding or a honeymoon.
Upon arrival you will be greeted with a lovely song by the staff, a cool towel and a glass of champagne.  When on the bus back to the airport,  you will hear one last sweet song.
Although the beach area has lots of shade, there is still plenty of sun.  The sun beds can be moved to suite your mood.
Many guests agree that the Butler Suites are amazing and well worth the extra money.  But, at Sandals Barbados everyone there is considered every staff members guest.
Sandals Barbados will go out the their way to make your stay enjoyable.  You can do as much as you want or as little.  It really is that simple.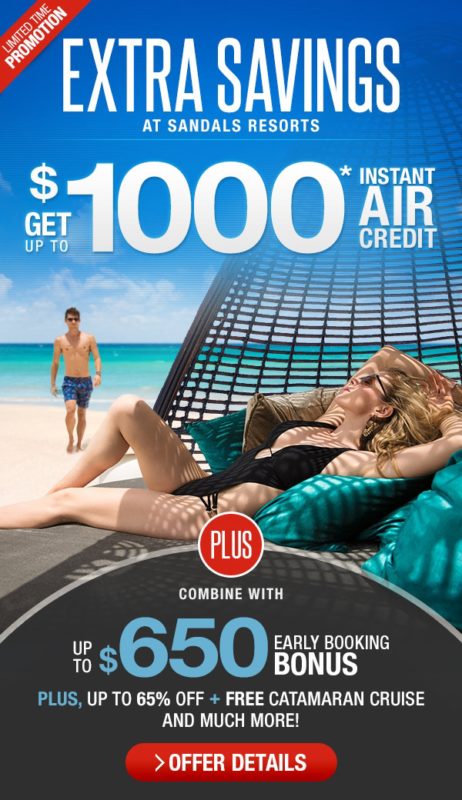 How does Sandals Barbados define all inclusive?
Unlimited fine dining at 11 restaurants.
Unlimited premium brand drinks.
Unlimited Mondavi Wines.
Butler service in select categories.
Unlimited land and water sports.
Unlimited Scuba Diving – Certified Divers:  2-1 Tank Dives per day, or, 1-2 Tank dives per day. Top of the line scuba diving equipment is included.
Nightly Entertainment.
Exclusive club Sandals and departure lounges.
Free non-stop round trip airport transfers.
Free Wi Fi in all rooms and public areas.
Other options available for an additional fee
Red Lane Spa treatments.
Local adventure tours.
Sandals Barbados Video
If you read through hundreds of reviews on the beach at Sandals Barbados, you will get conflicting reports.  Is it a good beach or a bad beach?  Is the beach too shaded?  Is the water too rough?
You can judge for yourself with the video below that we took of the beach on a recent visit to Sandals Barbados.
Here is a longer walkthough of the entire resort in August of 2016:
Another video that highlights the resort:
Restaurants at Sandals Barbados
There are 11 restaurants at Sandals Barbados and as many as 12 bars.  All 11 restaurants are
non-smoking.  The closing and opening times, cuisine, and, dress attire for each restaurant are listed below.
Bombay Club
Serves aromatic Indian fare.  Savor piquant favorites, Chicken Tikka, Poppadums, Butter Chicken,
Lamb Samosas and much more.
Reservations-Not Required.
Dress Code:  Resort Casual.
Breakfast:  8:00AM-11:00AM.
Dinner:  6:00PM-10:00PM.
Butch's Chophouse
An a la carte steakhouse, upscale New York style restaurant, serving carefully aged artisan hand cut steaks seasoned to perfection and accompanied by exquisite sides and flavorful sauces.
Reservations:  Required.
Dress Code:  Resort Evening Attire.
Dinner:  6:00PM-10:00PM.
Cafe de Paris
A Parisian-style patisserie serving pastries, crepes, coffee, tea, and much more.
Reservations:  Not Required.
Dress Code:  Resort Casual.
Opens:  7:00AM.
Closes:  11:00PM.
Dino's Pizzeria
Gourmet pizzas are prepared in a wood-fired brick oven.  Create your own pizza or choose one of the
signature blends.
Reservations:  Not Required.
Dress Code:  Resort Casual.
Lunch:  11:00AM-6:00PM.
Merry Monkey
Serves tasty English fare in an authentic gastro pub atmosphere.
Reservations:  Not Required.
Dress Code:  Resort Casual.
Dinner:  6:00PM-10:00PM.
Late Night:  10:00PM-2:00AM.
Kiminos
Japanese cuisine is prepared by skillful chefs who entertain with cookery tricks right before your eyes,
serving steaming seasoned meats and veggies fresh off the iron grill.
Reservations:  Required.
Dress Code:  Resort Casual.
Dinner:  6:00PM-10:00PM.
Portofino's
Serves authentic Mediterranean cuisine in an open-air seaside atmosphere.
Reservations:  Not Required.
Breakfast:  7:30AM-10:30AM.
Dinner:  6:00PM-9:30PM.
Schooner's
 A Colonial villa setting close to the ocean, serving the best of the fisherman's catch prepared Barbadian style everyday.
Reservations:  Not Required.
Dress Code:  Resort Casual.
Dinner:  6:00PM-9:30PM.
Soy Sushi Bar
Serves exciting flavors and exotic sushi creations made to order.
Reservations:  Not Required.
Dress Code:  Resort Casual.
Dinner:  6:00PM-10:00PM.
Bayside
Serves flavorsome International cuisine in an open-air eatery with views of the pools and the ocean beyond.  Breakfast and lunch are buffet-style and dining at night is a la carte.
Reservations:  Not Required.
Dress Code:  Resort Casual.
Breakfast:  7:00AM-10:30AM.
Lunch:  12:30PM-2:30PM.
Dinner:  6:00PM-9:30PM.
Mariner Seaside Bar and Grill
Mariner's is perched along the beach at water's edge serving traditional delights such as grilled fish, burgers, french fries, salads, and locally inspired favorites.
Reservations:  Not Required.
Dress Code:  Resort Casual.
Opens:  7:00AM.
Closes:  6:00PM.
Bars at Sandals Barbados
Sandals Barbados has a bar to match everyone's mood, which includes a swim-up bar at the main pool.  There are as many as 12 Bars at each of the Sandals Resorts.  The 24 hour drink availability
includes the In-room bars that are stocked daily.
Bars Open:  10:00AM.
Bars Close:  3:00AM
Scuba Diving at Sandals Barbados
A scuba diving introductory resort program is available for a nominal fee:
A medical questionnaire must be completely filled out and signed by a physician prior to the arrival at the resort.
A certified liability release form will need to be filled out and turned into the dive shop.
Guests that already have their scuba diving certification:
A mandatory medical questionnaire must be filled out and signed by a physician prior to arrival at the resort.
Inclusive to Certified Divers:
2-1 Tank Dives per day, or, 1-2 Tank Dives per day.
Top of the line scuba diving equipment is included.
The SCUBA diving requires a 30 minute drive from the resort to Bridgetown (the capital).
The diving is good and you can dive several wrecks.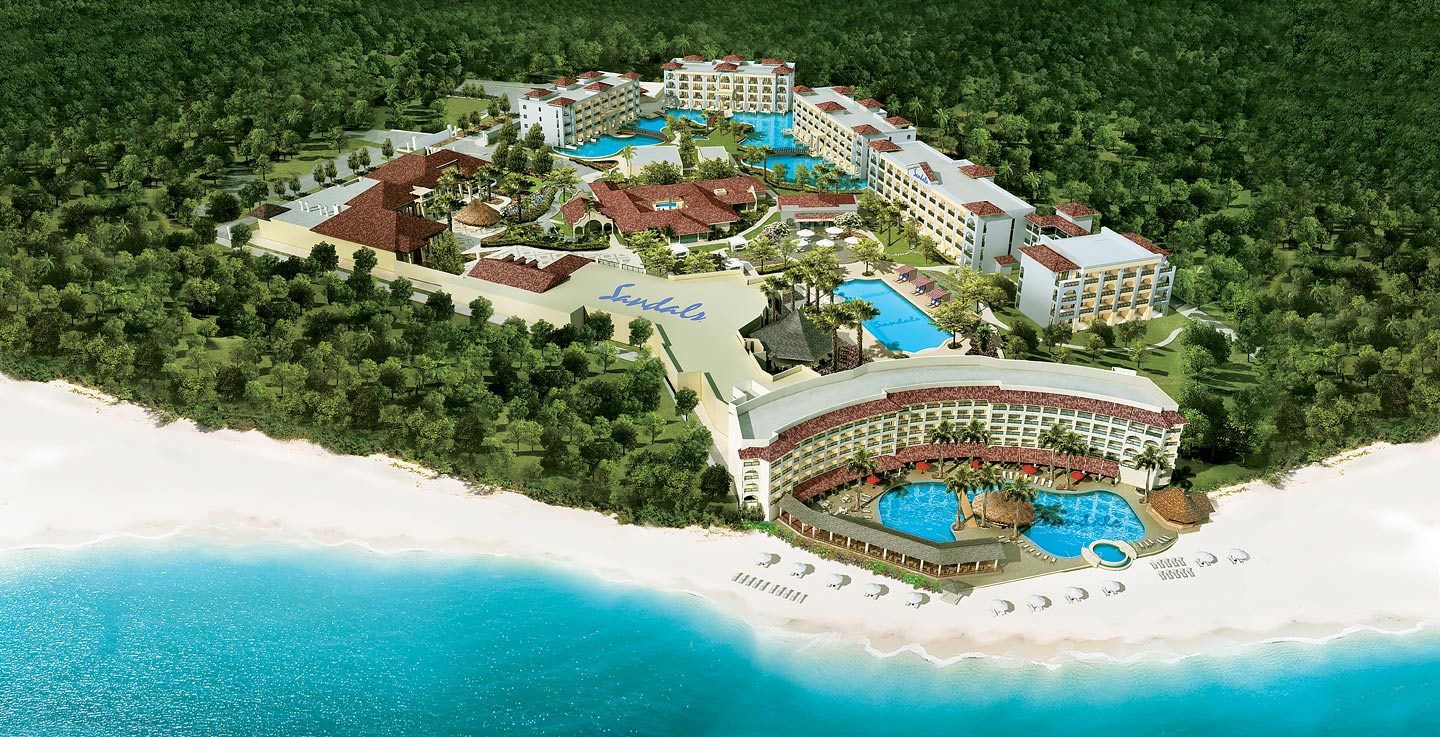 Guest Photos of Sandals Resort:
Rooms: