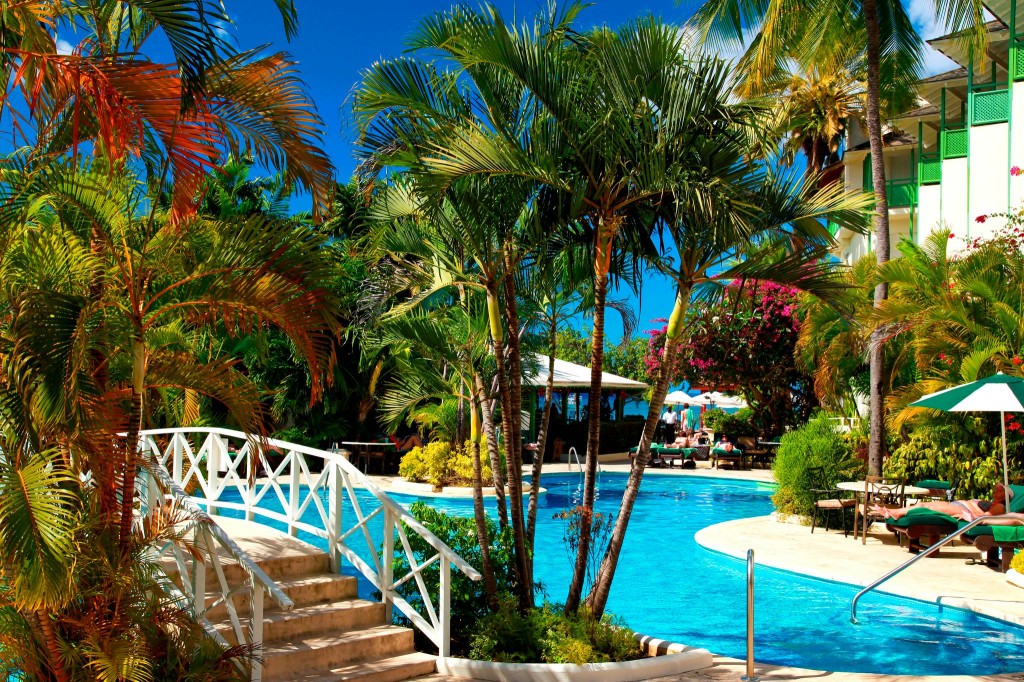 Updated: October 1, 2016
Mango Bay is a small all inclusive resort situated in the heart of Holetown Barbados on the Barbados Gold Coast.  Mango Bay is a small charming all inclusive resort.
Mango Bay offers 76 beautifully appointed guest rooms, all of which boast furnished balconies or patios.
Below is a summation of hundreds of user reviews on Mango Bay.
Most frequent positive reviews about Mango Bay
The Staff work very hard to ensure that your stay is perfect.  They always have a smile on their face and nothing is to much trouble.
The Food is amazing with a great selection to choose from. The meals are served a la carte which makes it nice to be waited on at the table.  There is a buffet 2 nights during the week which is equally delicious.  The chef has no problem catering to specific dietary needs.
Rooms are clean, spacious and comfortable.
 The Pool is a nice size and is close to the bar.  There are plenty of sun beds available.
The bar serves premium drinks,  offering well known name brands.  It stays open until midnight.
The bar staff comes around several times a day to take drink orders.  Cool towels are offered.
The beach is lovely, relaxing and quiet,  with plenty of sun beds.  There are cushions on the sun beds which give it a nice touch.
It is a 2 minute walk to Holetown where you will find  a variety of shops, restaurants,  bars,  a bank,  post office,  and,  a  supermarket with a pharmacy inside it.
The bus stop is also near by.  Each trip is only $2 Bajan ($1 US).
A large variety of water sports are available,  including a catamaran,  and,  a glass bottom boat.  Many quests have enjoyed swimming with the turtles.
The beach is perfect for nice long walks.
Most frequent negative reviews about Mango Bay
Room décor could do with some refurbishment.  But, the rooms are clean and comfortable.
Standard rooms can be a bit noisy in the evening,  due to the street noise.  It is suggested to upgrade if possible.
TV channels are very limited and the reception is not very good.
Wi Fi is hit or miss.  You may have to go out of the room to get good reception.
There is no Kids Club,  which makes it not so kid friendly.  Still,  the kids are well looked after by the staff.
 The Fitness room is small with limited equipment.
Other considerations
Upon arrival you are greeted with a cool towel and given drinks,  then you are  given an introductory tour of the hotel to help you get acquainted.
Anniversaries, birthdays, etc. are made special by the staff.
Mango Bay Barbados offers a wedding package,  and,  a wedding coordinator is available to make your wedding day truly memorable.
Daily Afternoon tea is served.
The Hotel is centrally located.  It is within walking distance to some great shopping, restaurants,  and,  bars.
Sunday night the locals have a street party.  Tourists are welcome to join in on the fun!
The Restaurant looks out over the beach,  so you can enjoy the fabulous food and sunset.
The jewel of the hotel is the staff.  They make this hotel feel like a 5 star experience.
How Does Mango Bay Barbados Define All Inclusive
Breakfast, lunch, afternoon tea, dinner and alcoholic and non-alcoholic beverages.
Complimentary watersports that includes waterskiing, kayaking, hobiecat sailing, pedal boats, and snorkeling.
Complimentary trip aboard a glass bottom boat that is offered on Fridays.
Complimentary 2 hour trip along the West Coast that includes snorkeling and swimming with the turtles.
Complimentary scuba diving lesson in the pool on Tuesdays and Fridays.
Gym that is equipped with a range of aerobic machines, free weights and a fitness ball which is open 24 hours daily.
Live music offered in the restaurant nightly from 8:00PM-11:00PM.
Complimentary wireless access is available in the public areas only.
Other Options Available For An Additional Fee
Specialty Wines, Champagne and Bottled Water.
Babysitting can be organized.
The "Elements Spa" treatments.
Scenic Boat Trips.
Island Tours and Excursions.
Golf at the various championship courses.
Further instruction and certification can be arranged for scuba diving.
Restaurants at Mango Bay Barbados:
There is only one restaurant at Mango Bay Barbados.  It offers the choice of either open-air or air-conditioned dining.  Meals are a mixture of buffet and table d'hote options featuring a fusion of Caribbean and International cuisine.
Breakfast:  7:30AM-10:00AM
Lunch:  12:00PM-2:30PM
Afternoon Tea:  4:00PM-5:30PM
Dinner:  7:00PM-9:00PM
Reservations:  Required for Lunch and Dinner Daily.
Dress Code:
Daytime-Resort Casual.  Cover-ups are required for Breakfast and Lunch.  Footwear required at all times.
Evening-Elegantly Casual.  Full length pants and shirts with sleeves (either short sleeves or long sleeves) are required for gentlemen for dinner. Exception-Friday night BBQ.  Smart shorts (no cargo pants) and 3/4 length pants are allowed.
Bar
Serves a full range of alcoholic and non-alcoholic beverages.
Hours:  10:00AM-Midnight
Mango Bay Photos