Island Inn Hotel is a 24-room all inclusive property is located on the south coast of Barbados, footsteps away from the beautiful Pebbles Beach, and less than a mile from the island's capital Bridgetown.
Below is a summation of hundreds of user reviews on Island Inn Hotel.  Updated through November 2015.
Most frequent positive reviews about Island Inn Hotel
The Staff are awesome.  Many of the staff have been working at the Island Inn Hotel numerous years,  maintaining a complete customer focus.
The Food is very tasty,  of a high quality,  and served with a smile.  The ice cream is amazing!   The chef will adapt the menu for special dietary needs.
The Rooms are spacious,  spotlessly clean,  and the beds are a nice size and comfortable.
The Pool is small but adequate.
Pebble Beach is right around the corner where you are able to rent sun beds and umbrellas to relax on their beautiful beach.
Ideal location for visiting:  The George Washington House, National Museum, Military Cemetery, Military Barracks, Race Course, Presidents House.  All are within walking distance.  Bridgetown is approximately a 30 minute walk.
Guests are able to visit the sister hotel,  (Mango Bay),  and enjoy their water sport amenities.
Music/entertainment three nights a week with dancing.  Lots of fun.
Wednesday night managers cocktail party and BBQ is quite entertaining.
Afternoon tea with various sandwiches and pastries is very enjoyable.
A box lunch will be packed for guests if going out on a day's excursion.
The Bar staff are friendly,  and,  is the area where most guests meet and chat.
Most frequent negative reviews about Island Inn Hotel
At first glance the Island Inn Hotel appears to be in need of a little TLC.
The food is good,  but the selection is limited.
 There are only a couple of umbrellas around the pool.  There is no shade in the afternoon sun.
Mosquitos and gnats are a big problem.  You will want to take bug spray with you.
No Wi Fi in rooms.  Can only be found in the reception area.
Other considerations
If you like early nights book a room away from the courtyard.   The courtyard rooms are close to the bar and entertainment.  The bar and entertainment stops at 11:00 P.M.
The Island Inn's wedding package provides services of a personalized wedding coordinator to ensure each wedding is seamless and unique.
Horse racing is nearby when in season-check the calendar.  Every morning except on racing day the race horses are exercised in the ocean.  It is nice to watch them swim,  or to swim close by in their company.
There are green monkeys around the hotel which is a lovely sight to watch them interact in their natural habitat.
Guests say one of the best things about this hotel are other guests.  Because the hotel is so small guests happily chat and share a few drinks together.
This is not a buzzing party hotel.  But, if you are looking for something that is quant, clean, quiet and relaxing with a smaller personal touch to it,  this may be the hotel for you.
Photos of Island Inn Hotel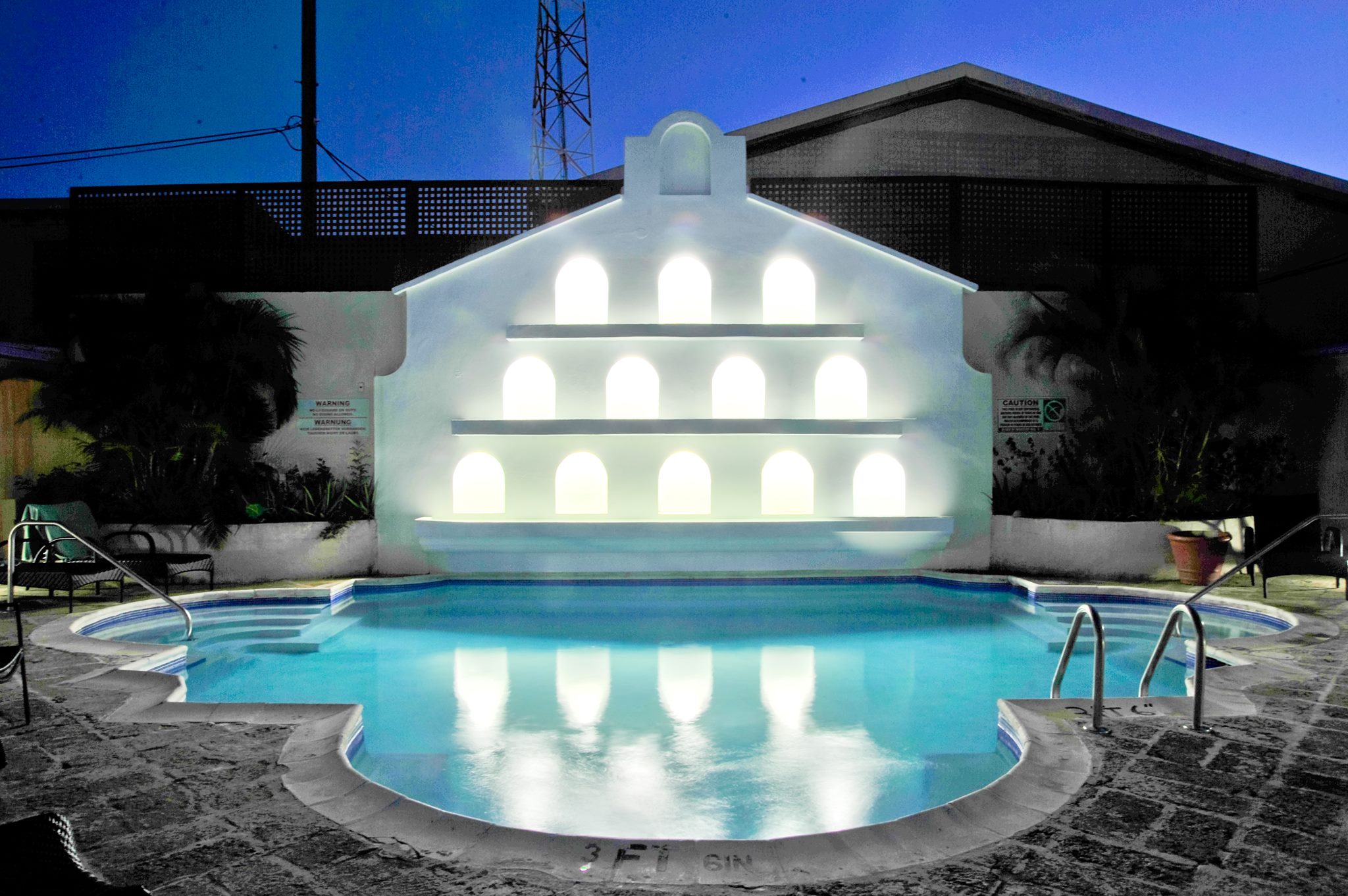 Small pool