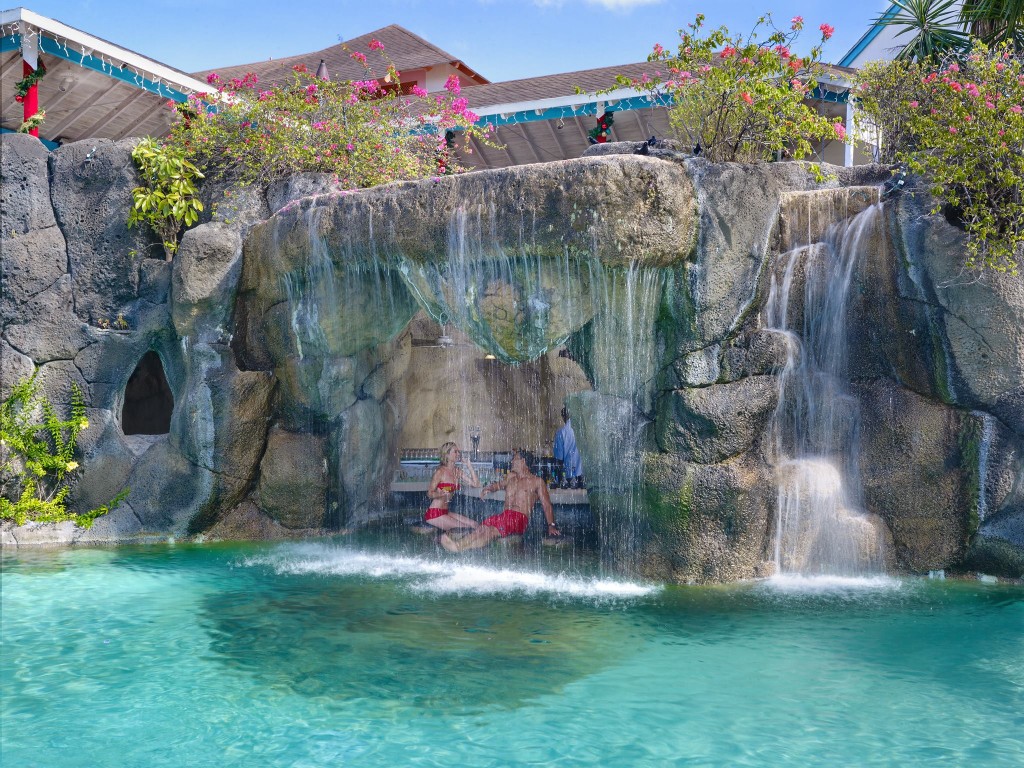 Updated: October 1, 2016
Crystal Cove is a premium all-inclusive resort on the west coast of Barbados.
The resort includes: three lagoon-like swimming pools, two floodlit tennis courts, and a well-equipped business center.
Below is a summation of hundreds of user reviews on Crystal Cove Hotel.  Updated through October 2016.
Most frequent positive reviews about Crystal Cove Barbados
Staff are very friendly, courteous, and helpful.
Food is delicious and the Chef will assist with any dietary needs.
Rooms are Cool, Clean, and Spacious with comfortable beds.
Ocean View Rooms make you feel like you are in paradise.
Gardens are Beautiful and well maintained. They are a pleasure to walk through.
Stunning views are observed over the bay.
Swim up bar under the waterfall is a lot of fun.
Water Sports are included with a Great Water Sports Team at your disposal.
Sunbeds are plentiful on the beach with individual shade.  It is not necessary to get up at  6 AM. to reserve them.  They cannot be reserved before 7:30 AM.
Ice Lollies, Jellies, and Drinks are brought around throughout the day for your pleasure.
Kids Club is inclusive, parents rating it excellent with a great staff entertaining your children.
Gym is great with lots of equipment available to be used.
Wi Fi has Good coverage.  Some say the best they have experienced.
Crystal Cove guests can enjoy full exchange dining at the sister resorts, (Turtle Beach and Waves). for lunch and dinner. Reservations are required. Transportation aside from the water
taxi is not included.
Crystal Cove is a beautifully clean and peaceful resort.
Most frequent negative reviews about Crystal Cove Barbados
Pools are small, but, still adequate.
Sunbeds are limited around the pool.
Entertainment does stop at 10:30.
Bar closes approximately at midnight.  It may be to quiet for some who want to stay up and party.
Bathrooms could use some updating,  but are equipped with everything needed.
Other considerations
Crystal Cove Hotel can accommodate a destination wedding, and, or, a honeymoon.
There are lots of steps. If you are unsteady on your feet or have buggies, etc. to wheel,  it may be difficult to get around.
Beds of coral are underfoot in some places.   You may want to bring swim shoes.
Kids Club has a large room with plenty of toys, computers, etc. with an outside play area.  There is a daily plan of activities.
Numerous water sports are available.  It is well run with excellent equipment.  Plus,  there is snorkeling off the beach.
Reggae bus stop is right out front of the hotel.  It will take you anywhere you would like to go for a dollar.
Crystal Cove Hotel has a lovely relaxed atmosphere with a staff that will do their best to cater to your needs
A Taste of Elegance Voucher can be purchased if guests have an interest in having lunch or dinner at the non-inclusive hotels within the Elegant Hotels Group, (Colony Club and Tamarind Hotel).
Crystal Cove has been nominated in the 2016 Family Traveller Awards for Best-All-Inclusive Holiday.
How Does Crystal Cove define All Inclusive
Breakfast, Lunch, Snacks, Afternoon Tea, and Dinner daily.
Unlimited Beverages and Cocktails.
Complimentary motorized and non-motorized watersports, instructions included.
Two open-air Restaurants:  Reflections serving, breakfast, lunch and dinner, Drifters Beach Restaurant and Bar serving Lunch and Dinner only.
The Beach Ambassador serves drinks while guests relax on the beach.
Floodlit Tennis Courts.
Twenty Four Hour Fitness Centre and classes.
Fully Staffed Flying Fish Kids Club for ages 3-12.
Live Music and Entertainment.
Free Wi Fi Internet access in the rooms, main resort area and business center.
Ability to enjoy the amenities at Crystal Coves sister resort the Turtle Beach Resort.
Other Options Available for an additional fee
Champagne and Fine Wines.
Spa Services and Treatments.
Room Service:  Continental Breakfast, Lunch, and Dinner, (selections may vary).
Romantic Private Dinner on the Beach.
Golfers can choose from among some of the best championship courses in the Caribbean.
Tours and Excursions.
Restaurants at Crystal Cove Barbados
Crystal Cove Hotel has 2 open-air Restaurants, afternoon tea that is served daily, and the availability to order room service.
Reflections Restaurant
An open-air restaurant, has a pool side setting, and serves buffet style International Cuisine.
Breakfast:  7:30AM-10:00AM.
Lunch:  12:30PM-2:30PM.
Dinner:  7:00PM-9:30PM
Reflections also offers a Kids' Buffet (serving kids favorites), Sunday thru Friday, 5:30PM-9:00PM.
Drifters Beach Restaurant and Bar
An informal open-air restaurant and bar located closer to the beach and serves both lunch and dinner.
Daily From:  10:00AM-6:00PM.
Dinner:  7:00PM-9:30PM.
Afternoon Tea is served daily: 4:30PM-5:30PM.
Room Service:
Breakfast:  7:30AM-10:00AM
Lunch:  12:30PM-2:30PM.
Dinner:  7:00PM-9:30PM.
Bars at Crystal Cove Hotel
The Cave Bar:  Enjoy swimming through a dramatic waterfall while staying cool in the pool with a favorite cocktail.
Daily:  10:00AM-11:45PM.
Drifters Bar:  Enjoy the special drink of the day while overlooking the ocean.
Daily:  10:00AM-6:00PM.
Plus:  The Beach Ambassador delivers your favorite cocktail while you relax on the beach.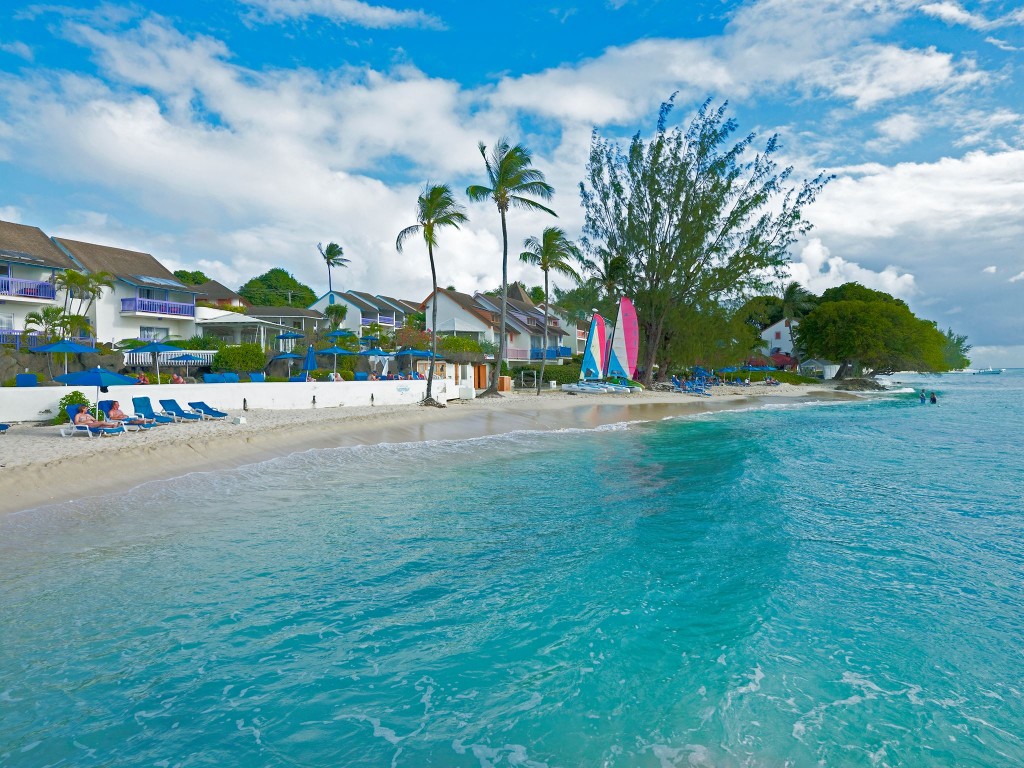 Resort view from the water