Barbados Beach Club is a 2.5 star all inclusive resort that offers modern rooms with balconies, overlooking the ocean or the outdoor pool. It features 2 restaurants, water sports facilities and free Wi-Fi.
Barbados Beach Club has Caribbean style rooms, decorated with tiled floors, floral fabrics, wooden furniture, and island-themed artwork. Each of the air-conditioned rooms has a satellite TV and a refrigerator.
Below is a summation of hundreds of user reviews on Barbados Beach Club.  Updated through November 2015.
Frequent positive reviews about Barbados Beach Club
The rooms are basic, but,  adequate and kept spotlessly clean.  Towels are changed daily.
The Food is reasonably good.  Most meals are served buffet style with the exception of an a la carte being offered a few times a week.
Nice balcony with table and chairs.  Beautiful view of the ocean.
Plenty of sun beds and umbrellas on the beach and around the pool.
Nice Beach.  Great waves for boogie boarding.
Nice view of the ocean at the pool side bar.
Nightly entertainment is enjoyable.
Wi Fi very good in public areas.
Frequent negative reviews about Barbados Beach Club
Some of the staff are friendly,  others not so much.
Limited Food options.
Wine is only served at the evening meals.  No other time,  not even at the pool side bar.
The bar has limited drink choices.
Mini frig is not stocked.  Not even with water.
No Room Service available.
The Hotel is dated, including the guest rooms and guest bathrooms.  In need of some TLC and Refurbishment.
There is a daily fee if you want to use the guest room safe.
No Shuttle service offered to or from the Airport.
Entertainment is hit or miss.
The Gym consists of a treadmill, exercise bike and a few dumbbells.
The Hotel is a no frills hotel, don't expect a 5 star experience and you will not be disappointed.
Other Considerations
Music can be heard if you have a room overlooking the pool area until 11:00 P.M.  If you retire early you may want to ask for a room away from the pool.
A destination wedding can be planned at the Barbados Beach Club.
Good location.   Near Oistins,  and,  it is  a short bus ride to Bridgetown and to and from the airport.
Not a great area for walking.  There is no footpath along the road and not much within walking distance of the neighborhood.  The Road is not well lit at night.
If you have realistic expectations of what you are paying for, and you are on a budget,  you may want to consider The Barbados Beach Club.
Photos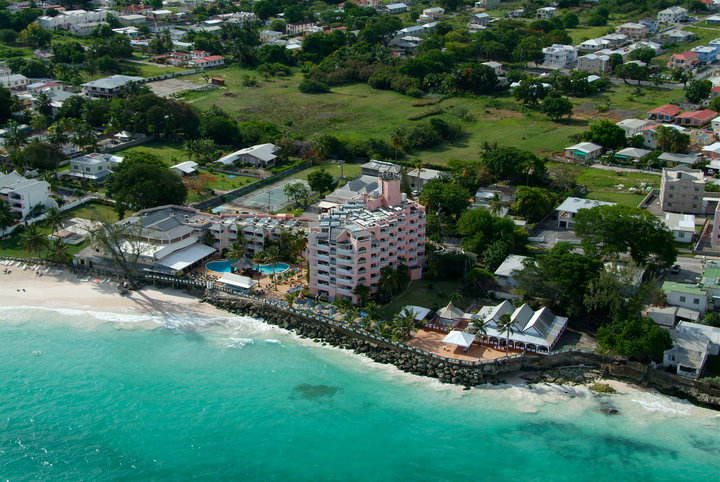 Barbados Beach Club Aerial
Room view – 7th floor
Wedding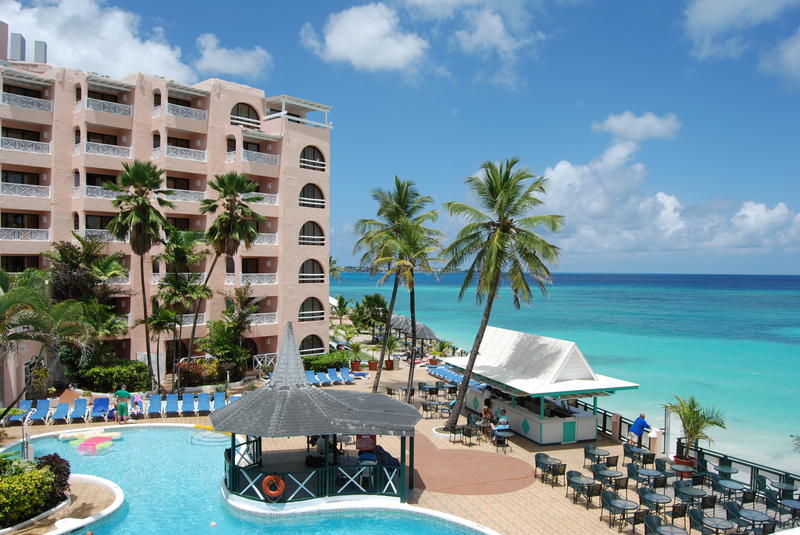 Pool and pool deck
Videos
http://youtu.be/sXn-n3-s9C4