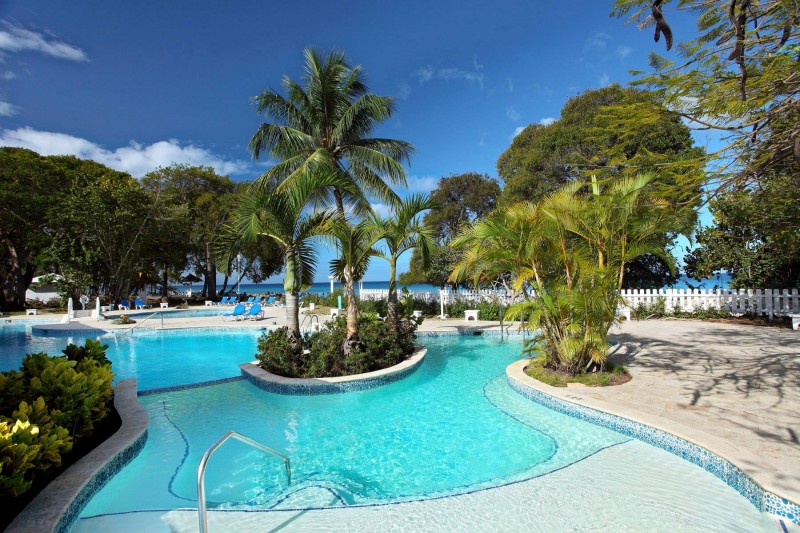 Updated: October 1, 2016
Almond Beach Resort is an affordable family-friendly all inclusive resort, on the prestigious West Coast of Barbados. The property sits on a beautiful 1-km (half-mile) stretch of calm, beautiful beach in Heywoods, St. Peter. It is located only 30 minutes from the capital, Bridgetown, and 45 minutes from Grantley Adams International Airport.
The resort's 135 rooms, restaurants and facilities are located in the Southern section of the former Almond Beach Village. Sun Group Hotels recently renovated the property, updating and refreshing room blocks, dining areas, pools and children's areas for its reopening at a four-star standard.
Below is a summation of hundreds of user reviews on Almond Beach Resort.
Almond Beach Resort Reviews: The Positive
The food is good,  offering a la carte and buffet options
The Staff are friendly and courteous.  They will do their best to make your stay as comfortable as possible.
The rooms are spacious and clean.
There are several pools to choose from which are clean and inviting.  Sun beds and umbrellas are not a problem.
The beach is stunning with plenty of sun beds available.  The water is perfect for swimming.  If the water gets a bit choppy the life guards keep a good watch out.
The Water Sports team and amenities are awesome.
Inclusive excursions are lots of fun.  Jeep Safari, Island Tour, Glass Bottom Boat, Reef Fishing.
Evening entertainment is good..
Gardens and grounds are well maintained.
There is a lovely Tea Room where you can go and make tea and coffee throughout the day.  Afternoon tea is delicious with sandwiches and cakes, etc.
There is a Kids Club available.  Everyday outside of the kids club they have a printed itinerary of the days activities.
It is a nice little stroll to the quant town of Speightown.
Guests are able to visit Almond Beach's sister hotel, The Sugar Cane Club, once during your stay.
Good value for the money.
Almond Beach Resort Reviews: The Negative
The Hotel is a little tired looking in places.
Some of the Rooms are a bit dated, Bathrooms included.
Some repetition from  day to day with the menu.
Part of the Hotel is closed down.
All Three of the restaurants may not be open at the same time.
Pools are shallow.  The deepest one being four feet.
Other considerations
A destination wedding and honeymoon can be planned at the Almond Beach Resort.
There is coral in some areas of the ocean floor.  But there is plenty of clear places to play and swim.
At Almond Beach Resort there is plenty to do if you want action  and lots of relaxation to be had if lying on the beach is your preference.
How does Almond Beach Resort define All Inclusive
Unlimited meals and drinks at the open-air restaurants and bars all day and into the late evening.
Snacks at the buffet style restaurant during the day.
Exchange dining at Sugar Cane Club Hotel and Spa for a change of scenery.
Non-motorized water sports for the entire family- snorkeling, paddle boarding and kayaking.
Excursions and tours-glass bottom boat rides and swimming with the turtles.
Live evening entertainment.
2 Tennis courts for day and night play, including tennis instructions.
Yoga classes.
Paddle boarding lessons.
Golf driving range and putting green.
Billiard pool tables.
Kids Club with supervised indoor and outdoor activities
Other options available for and additional fee
Private reserve wines and liqueurs.
Lobster at all meals.
Wine by the bottle.
Spa and beauty products, treatments and services.
Motorized water sports.
Scuba diving.
Optional tours and excursions.
Babysitting after hours.
Restaurants at Almond Beach Resort
There are 3 Restaurants and 2 Bars at the Almond Beach Resort, plus, exchange dining at their sister hotel, The Sugar Cane Club Hotel, for a change of scenery.
The Reef Restaurant and Bar
An open-air family friendly seafront restaurant serving breakfast, lunch, and, dinner daily.  During the daytime the restaurant is casual, serving extensive Caribbean-themed buffets.
Breakfast hours:  7:30-10AM
Lunch hours:  12:00-3PM
Dinner hours:  6:30-9:30PM-The chef serves creative seafood selections.  Reservations are required and the dress code is elegant casual.  Long pants are required for gentlemen in the evening.
Enid's Restaurant
A Bajan-style restaurant with open-air dining serving a la carte local foods for lunch and dinner.
Lunch hours:  12:30-2:30-dress code is casual
Dinner hours:  6:30-9:30-reservations are required and the dress code is smart casual with long pants required for gentlemen.
Horizon Restaurant
An open-air and indoor dining with themed night-time buffets complete with a full carvery.  The restaurant features live entertainment 3 nights weekly.
Dinner hours:  6:30-9:30-Reservations are required for dinner.
Bars at Almond Beach Resort
Tommy's Bar
A fully air-conditioned bar for comfort.  It has a true feel of a  Bajan rum shop.
Hours:  12noon-1AM.
Horizon Restaurant
Features live entertainment 3 nights weekly.
Hours:  6:30PM-1AM.
Photos
Beach Photos:
Pool Photos:
Room Photos: