What's "best" is almost always a matter of personal opinion and for all inclusive resorts in Barbados it is no different.
There are 7 all inclusive resorts in Barbados that are classified as 4-star resorts and each of them can make a claim as being the best.  To determine which ones are the best we have considered the features most all inclusive guests value the most – things like, the quality of the pools and the beach, the quality of the activities and entertainment, the feedback from guests and many other factors.
Based on our analysis of all the factors, here is our ordered list of the best all inclusive resorts in Barbados.  We also have a detailed explanation of the pros and cons of each resort if you continue scrolling below.
The Best All Inclusive Resorts in Barbados
The Best of the Rest
We have also compiled a list of the best resorts in some of the key categories that most visitors value when considering an all inclusive resort.
Best Beach | Best Pool | Best Activities
All Inclusive Resorts with the Best Beach
If you plan to be a beach bum on your all inclusive vacation, these are the best resorts for you.  When thinking about the best beach there are two primary considerations in Barbados.  The first consideration is the beach itself – the size, the view, the sand, and how crowded it is.  The second consideration is the water and how calm or rough it might be.  All the all inclusive resorts in Barbados are either on the south coast or the west coast.  The simple rule for the water is this: the water on the west coast is usually calm, the water on the South Coast is usually rougher and can sometimes be very rough.
The ocean on the west coast frequently looks like this:
The south coast frequently looks like this:
NOTE: All beaches in Barbados are public beaches, but some are more crowded than others.  There are beach vendors on most of the beaches as well, but this is closely policed by the Barbados government and is usually not as intrusive as some other Caribbean islands.
All Inclusive Resorts with the Best Pools
Sandals Barbados – Sandals has a pool to fit everyone's mood.  The romantic swim up lagoon rooms, a large pool with music, activities, and a swim up bar, and a large pool for relaxing in a quiet atmosphere.
The Club Barbados – All 3 pools are located in the garden area and are a nice size.  One pool has a waterfall flowing into the other.
Crystal Cove Hotel – The 3 freshwater pools are lagoon style, 1 pool having a swim up bar under the waterfall.
Turtle Beach Resort – The 2 pools are lovely.  Both pools have plenty of sun beds and umbrellas for shade.
The Sea Breeze Beach Hotel – Has 2 nice size swimming pools, (1 for adults only, the other for families.  Both pools have several comfortable sun beds with umbrellas for shade.
All Inclusive Resort with Best Activities
Sandals Barbados
Mango Bay
Turtle Beach
---
Best All Inclusive Resorts – Reviews
Sandals Barbados

What people love about this resort
The Staff are friendly.  Nothing is too much trouble.  They are always making sure you are having a good time.
The Food is delicious and makes for a culinary delight in each of the eleven restaurants.  Butch's is extremely popular and the only restaurant requiring reservations.
Café de Paris is excellent for coffee and tea,  and,  for those afternoon and evening sweet cravings.
Merry Monkey is a fun place to have a late night drink, play pool, and listen to music.
The Rooms are clean, spacious, and beautifully designed.  The beds are comfortable.  Rooms are equipped with UK and USA sockets.
Pools are lovely.  Something for everyone.  The main pool has a swim up bar and is the more active pool.
The drink servers around the pools and on the beach are always attentive and friendly. They will bring drinks to you from the bar.
Water sports are available with an attentive water sports team.
Nightly shows are entertaining and fun.  The staff encourages guests to join in on the activities, but, are not pushy.
There is a Fire Pit at night surrounded by comfy chairs.
The gym is new and well equipped.
Wi Fi around the resort is pretty good and fast.
Common Negative Reviews on Sandals Barbados
There's a big difference between butler service and non-butler service
Some rooms have no bath tubs – you should ask about this when you book if this matters to you
The wait at the airport can be long for a short drive to the resort – we recommend a taxi
The ocean can be rough, very rough.  Expect to see red flags up at some point during your stay.   There is no swimming when red flags are up due to the choppy water.
If the beach and calm water are most important to you it may be a bit disappointing.
The beach area has lots of shade.  Too much for some guests.
Water Sports may not be available every day due to the ocean being rough.
Sun beds can be a problem because guests will get up early to reserve the choice spots.  The biggest problem seems to be around the main pool area.  The staff will remove towels from the reserved beds if they are not occupied within a reasonable period of time.
In the morning Birds can be a problem at the Bayside Restaurant.  The other option is the Bombay Restaurant.
There is a minor problem with the walk in showers getting the bathroom floor wet due to the design.   You may need to put extra towels down on the outside of the shower.
Additional information on Sandals Barbados
Much larger than the other all inclusive resorts in Barbados.  The resort is very well laid out and tastefully decorated.
The grounds are absolutely immaculate and the resort is pristine.
There are small romantic seating areas around the property for couples to enjoy.
Sandals Barbados is a great resort for planning a destination wedding or a honeymoon.
Upon arrival you will be greeted with a lovely song by the staff, a cool towel and a glass of champagne.  When on the bus back to the airport,  you will hear one last sweet song.
Although the beach area has lots of shade, there is still plenty of sun.  The sun beds can be moved to suite your mood.
Many guests agree that the Butler Suites are amazing and well worth the extra money.
Sandals Barbados will go out the their way to make your stay enjoyable.  You can do as much as you want or as little.  It really is that simple.
Crystal Cove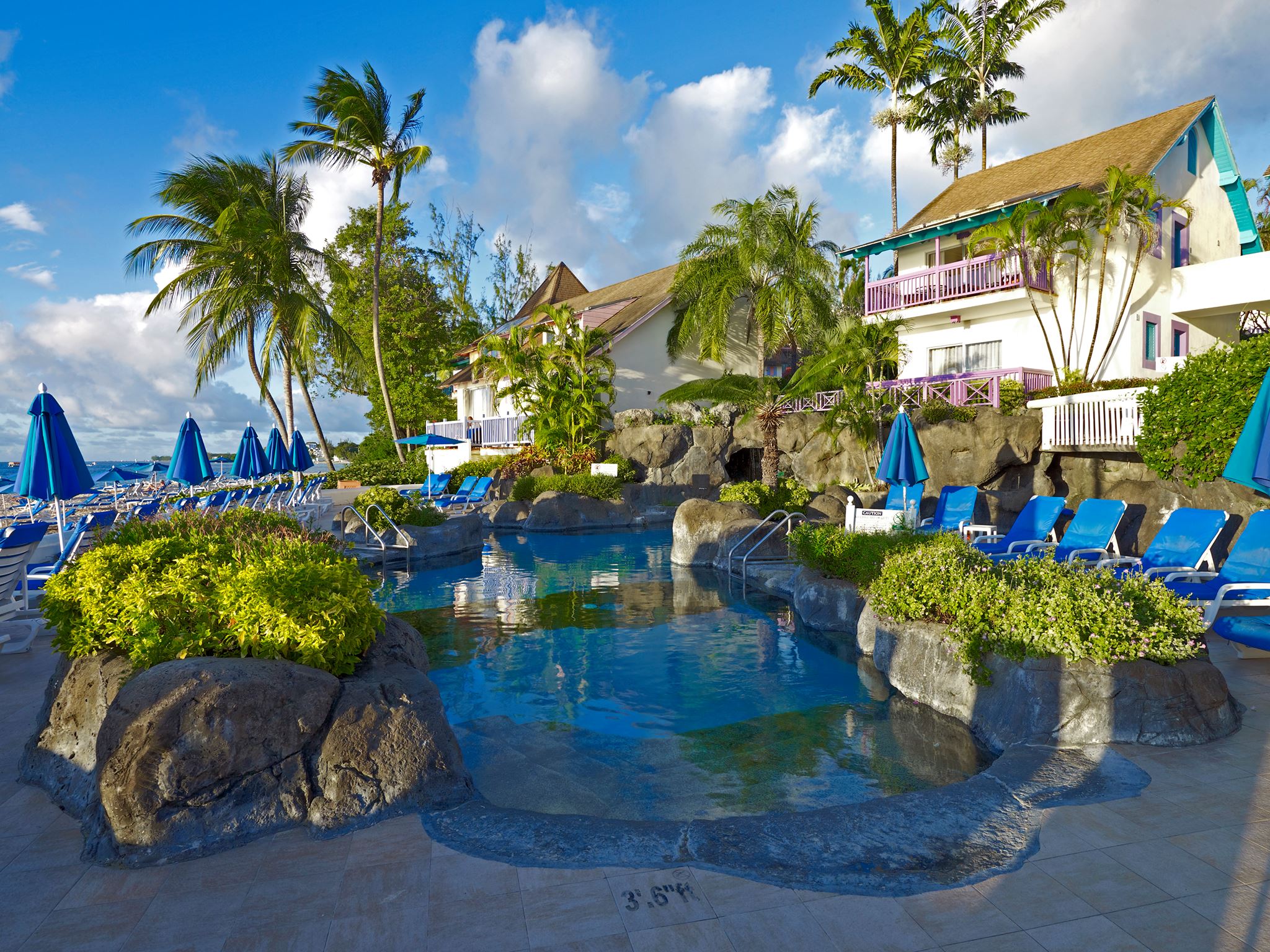 What People Love About The Hotel
Staff are very friendly, courteous, and helpful.
Food is delicious and the Chef will assist with any dietary needs.
Rooms are Cool, Clean, and Spacious with comfortable beds.
Ocean View Rooms make you feel like you are in paradise.
Gardens are Beautiful and well maintained. They are a pleasure to walk through.
Stunning views are observed over the bay.
Swim up bar under the waterfall is a lot of fun.
Water Sports are included with a Great Water Sports Team at your disposal.
Sunbeds are plentiful on the beach with individual shade.  It is not necessary to get up at  6 A.M. to reserve them.
Ice Lollies, Jellies, and Drinks are brought around throughout the day for your pleasure.
Kids Club is inclusive, parents rating it excellent with a great staff entertaining your children.
Gym is great with lots of equipment available to be used.
Wi Fi has Good coverage.  Some say the best they have experienced.
Sister Hotel, (Turtle Beach), can be visited and enjoyed.
What people do not love so much about the hotel
Pools are small, but, still adequate.
Sunbeds are limited around the pool.
Entertainment does stop at 10:30.
Bar closes approximately at midnight.  It may be to quiet for some who want to stay up and party.
Bathrooms could use some updating,  but are equipped with everything needed.
Other considerations for Crystal Cove
 There are lots of steps. If you are unsteady on your feet or have buggies, etc. to wheel,  it may be difficult to get around.
Beds of coral are underfoot in some places.   You may want to bring swim shoes.
Kids Club has a large room with plenty of toys, computers, etc. with an outside play area.  There is a daily plan of activities.
Numerous water sports are available.  It is well run with excellent equipment.  Plus,  there is snorkeling off the beach.
Reggae bus stop is right out front of the hotel.  It will take you anywhere you would like to go for a dollar.
Hotel has a lovely relaxed atmosphere with a staff that will do their best to cater to your needs.
Turtle Beach
An all-inclusive, all-suite, family friendly resort on the south coast of Barbados.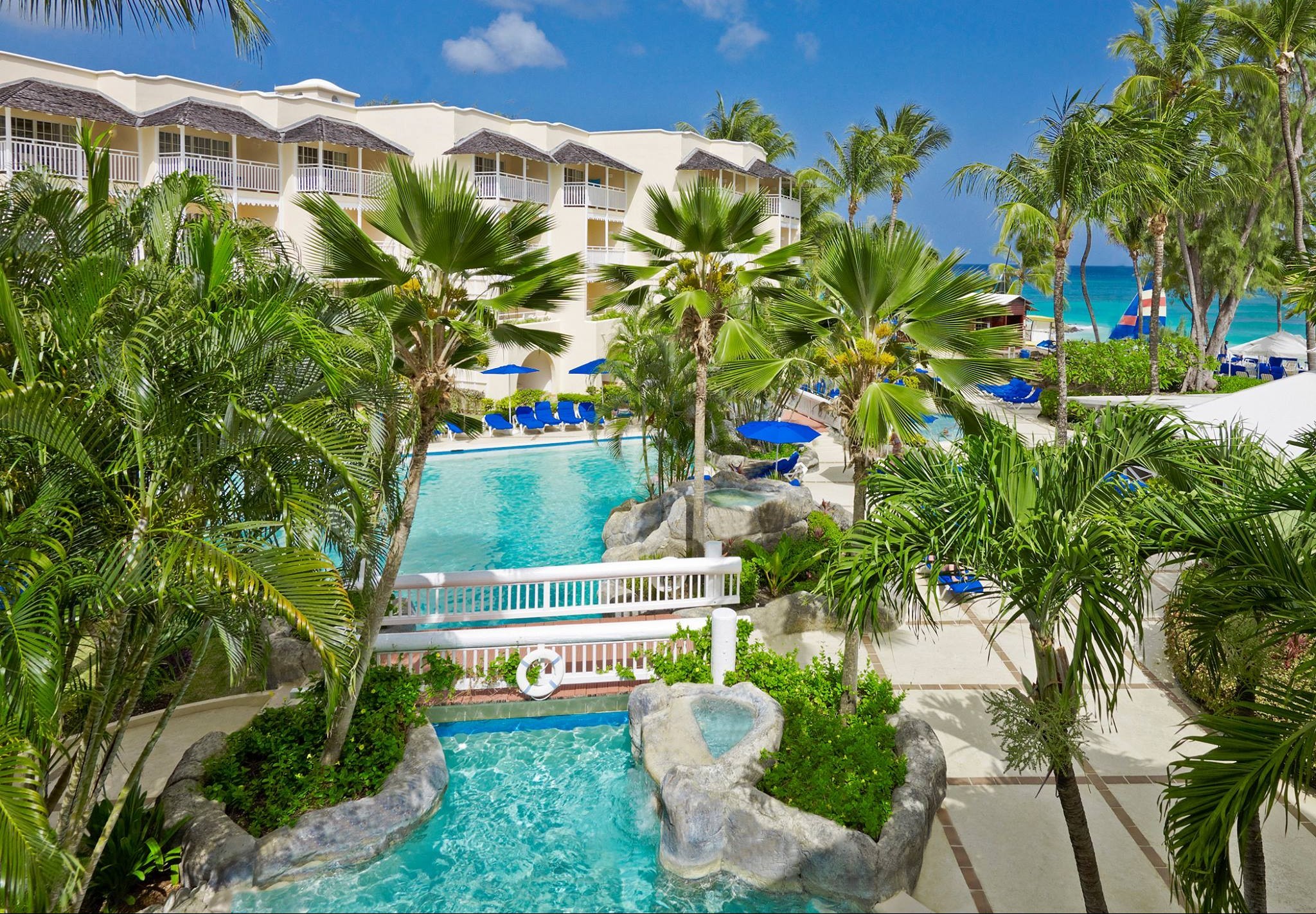 Most frequent positive reviews about Turtle Beach Resort
The Staff are very friendly, efficient and professional.  They strive to make your stay enjoyable.  Nothing is too much trouble.
The Food is good, of a high quality with plenty of variety.  There are three restaurants to choose from, a  Buffet with a different theme every night, an A La Carte, and a Zagat rated authentic Italian restaurant, (Asiago's).  Menus are put out in advance for the A La Carte restaurant to make choosing easier.
The Suites are spacious, clean, nice décor, and the beds are comfortable.
The Flying Kids Club and Staff are awesome.  Great activities are offered, tennis, air hockey, arts and crafts,  making smoothies, treasure hunts, football games, and much more.  The kids have the time of their life, they do not want to leave.
Pools are lovely with plenty of sun beds available.
Complimentary non-motorized water sports are available.  Captain Sam and his team on the beach are fantastic.  They are always on hand to assist and to make sure you are safe.
Beverages, fruit and ice lollies are brought around by the friendly staff.
Plenty of sun beds on the beach.
Able to visit sister resorts experiencing  their unique differences that characterize each property.
Entertainment is good and varied.
 Gym is air conditioned and well equipped.
Easily wheelchair accessible.
Five minute walk to St. Lawrence Gap where all the bars, cafes and restaurants are.
Located close to airport which makes it a short trip to the resort.
Most frequent negative reviews about Turtle Beach Resort
The ocean is rough.  Expect to see red flags on occasion due to the choppy waters.
May not be able to do water sports everyday due to the rough water.
Excess of seaweed at times.  The staff work regularly to keep the beach clean.
If you require flat seas and no wind.  This is not the resort for you.
Birds flying around the dining area are a nuisance.
If you lose your towel card you are charged $30.00 U.S.
Mini refrigerators are not stocked. You will have to pay extra if you want soda and water in your room.
If you are with kids you can not use the Italian Restaurant.
Wi Fi in the room is a bit slow.  It is good on the beach and by the pools.
If you book within the range of school holidays,  and,  you are traveling as a couple,  be aware you may run into family groups and lots of children.  If this is not for you, you may want to stay at a different time,  or,  at a different resort.
Other Considerations for Turtle Beach
 A destination wedding  or honeymoon can be planned at the Turtle Beach Resort.  A wedding package is available.
Even though the water can be rough at times it makes body boarding and surfing lots of fun.
The kids can go to movie night and have dinner in the kids club while the adults  go to the adult only hotel and enjoy dinner.
There are four sister resorts available to visit while staying at Turtle Beach Resort. (Colony Club, Crystal Cove, Tamarind, The House)
At Turtle Beach Resort there is something to keep everyone happy. Body boarding, the pool, table tennis, the gym, tennis, the kids club, and the internet café to name a few.
The staff are kind, caring , efficient and professional, some say,  " the Gem of the hotel",  helping to contribute to the relaxed and amazing friendly atmosphere of Turtle Beach Resort.
Mango Bay
Mango Bay is a small all inclusive resort situated in the heart of Holetown Barbados on the Barbados Gold Coast.  This is a small charming all inclusive resort.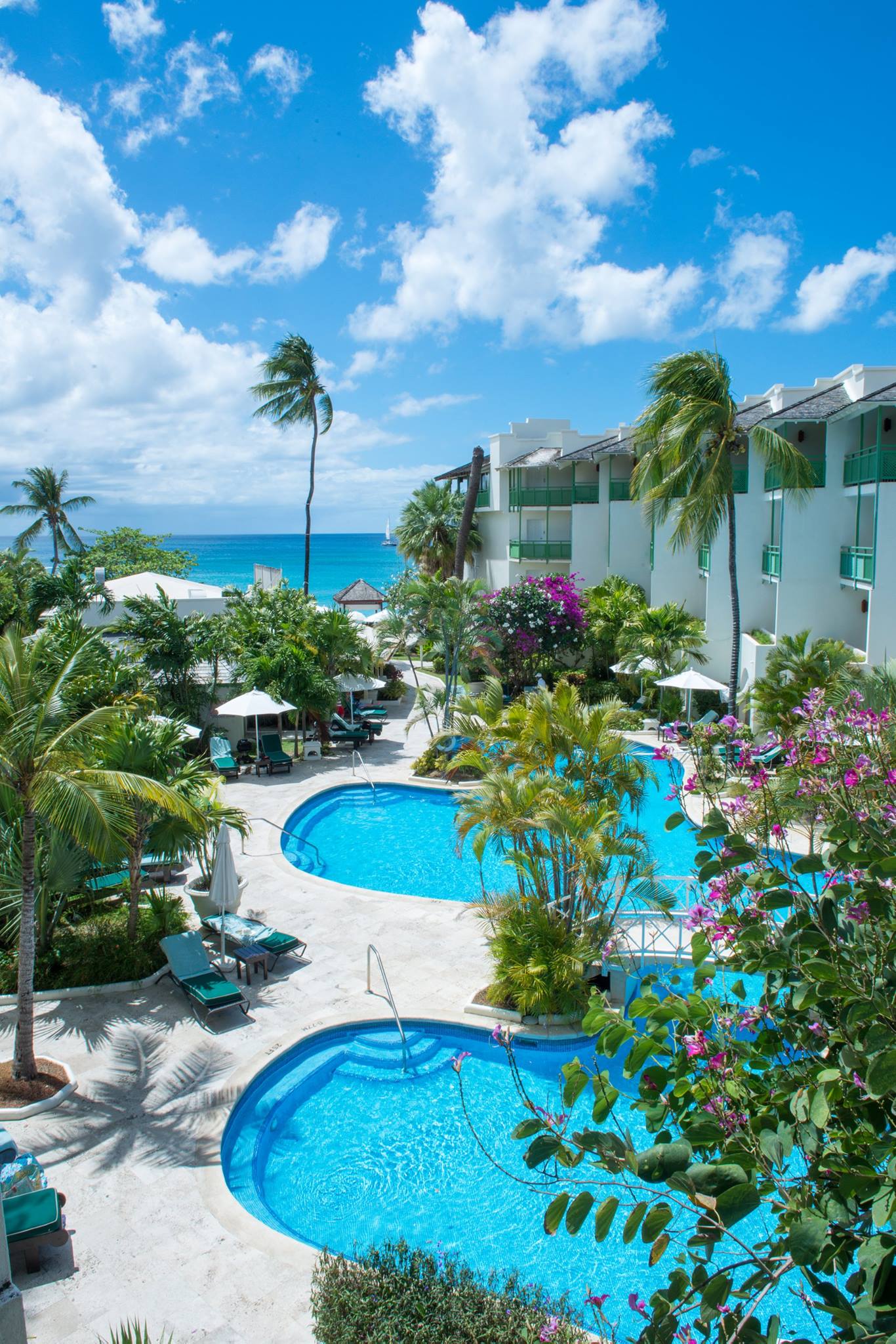 What People Love About This Resort
The Staff work very hard to ensure that your stay is perfect.  They always have a smile on their face and nothing is to much trouble.
The Food is amazing with a great selection to choose from. The meals are served a la carte which makes it nice to be waited on at the table.  There is a buffet 2 nights during the week which is equally delicious.  The chef has no problem catering to specific dietary needs.
Rooms are clean, spacious and comfortable.
Pool is a nice size and is close to the bar.  There are plenty of sun beds available.
The bar serves premium drinks offering well known name brands.  It stays open until midnight.
The bar staff comes around several times a day to take drink orders.  Cool towels are offered.
The beach is lovely, relaxing and quiet with plenty of sun beds.  There are cushions on the sun beds which give it a nice touch.
It is a short walk to a variety of shops, restaurants and bars including a bank, post office and supermarket with a pharmacy inside it.  The bus stop is near by, $2 Bajan for each journey.
A large variety of water sports are available including a catamaran  and a glass bottom boat.  Many quests have enjoyed swimming with the turtles.
What People Do Not Love As Much About The Resort
Room décor could do with some refurbishment.  But rooms are clean and comfortable.
Standard rooms can be a bit noisy in the evening due to the street noise.  It is suggested to upgrade if possible.
TV channels are very limited and the reception is not very good.
Wi Fi is hit or miss.  You may have to go outside of the room.
There is no Kids Club which makes it not so kid friendly, but the kids are well looked after by the staff.
Fitness room is small with limited equipment.
Information of interest
Upon arrival you are greeted with a cool towel and given drinks then given a introductory tour of the hotel which helps you get acquainted.
Anniversaries, birthdays, etc. are made special by the staff.
Afternoon tea is served and can be enjoyed every afternoon.
Hotel is centrally located within walking distance of some great shopping, restaurants and bars.
Sunday night the locals have a street party.  Tourists are welcome to join in on the fun!
Restaurant looks out over the beach so you can enjoy the fabulous food and sunset.
The jewel of the hotel is the staff.  They make this hotel feel like a 5 star experience.
The Club Barbados
The Club, Barbados Resort & Spa is an Adults-Only All-Inclusive resort on the west coast of Barbados.
Most frequent positive reviews about The Club Barbados
Efficient, friendly, and attentive staff.
The food is very good with an excellent variety and is well presented.  The chef will cater to special dietary needs.
The rooms are spacious, clean, and the beds are very comfortable.
The adult only resort is small and intimate which makes it easy to meet other guests.
The location is excellent.  If so inclined,  pleasant walks can be taken in all directions.
Guests recommend taking advantage of the spa and the amenities the spa has to offer..
Pool areas have plenty of chairs and sun loungers.
Guests enjoy sitting at the beach bar and watching the sunset in a calm and quiet atmosphere.
A variety of water sports are offered with a water sports team that are very polite and helpful.
When the bar closes at 11:00 P.M.  the Piano bar is open until 2 A.M.  with singing and karaoke.
The gym is well equipped with new treadmills and weight machines.
There is a lovely gift shop on site.
The Reggae bus stop is right outside the hotel.
Common complaints about The Club Barbados
The beach area is small at low tide and can become non existent at high tide.  You can see a clear picture of the beach area here.
 The guests will reserve beach sun beds before breakfast when the resort gets busier. This can be annoying when the sun beds are not used for several hours.
Entertainment can be a bit low key,  but,  it is still well varied.
Wi Fi can be inconsistent.  You may have to sit in the bar or the reception area.
Don't expect to see the hotel full of really young couples.  If it is a party hotel you want this hotel may be a bit low key for you.
Other Considerations for The Club Barbados
Breakfast and lunch are buffets providing everything that you could wish for.  The evening dinner is served at your table at either The Sunset Restaurant, which is more relaxed, or Enid's, being a bit more formal and serving local food.  Both are said to be outstanding.   Two evenings per week a buffet is served.
Enid's offers a demonstration Bajan cooking class for there guests.  Some guests say it was the highlight of their trip.
There are 3 nice size pools located in the garden area with lots of exotic flowers, trees and birds to see.
Even though The Club Barbados beach is small there is a lovely beach on either side of the hotel that can be used by guests.  Sandy Lane beach is to the left, (famous for the celebrities that stay there), and to the right,  another totally unspoiled beach.  Remember it could be tricky getting to either at high tide.
There is a raised terrace with sand that provides a unique area to sit in the afternoon sun and watch the sunset, or, sun bathe all day long.  To get to the water you will need to take the stairs down to the ocean.
The Club Barbados is conveniently located for all the best golf courses on the island.
It is a short walk to Holetown with it's plethora of shopping, restaurants, gas station, etc.,  pretty much anything that you might require while on holiday.  There is even a casino.
The Club Barbados is a lovely, friendly, relaxed atmosphere with plenty to do and very good excursions run by the hotel.